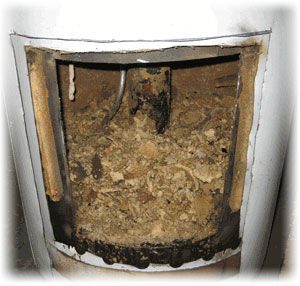 Do you hear bubbling and gurgling noises coming from your water heater? This is the result of sediment buildup at the bottom of your hot water heater tank. Regular maintenance can prevent the buildup of sediment and increase performance and life expectancy of your tank.
Over time, sediment builds up in the bottom of your water heater from normal debris and metals that come through your water system. As the sediment builds, the water heater has to heat the water by first heating the sediment on the bottom of the tank. This causes the popping and gurgling noises you hear.
Sediment build up reduces the amount of space available to store hot water, as part of the tank capacity for water is filled by the sediment. Additionally, the water heater requires more energy to heat the water as it must heat the water through the layer of sediment. Now, you have a hot water heater that is not performing optimally because of sediment buildup.
Fortunately, there is a way to remove the sediment in your water heater. You can perform routine maintenance on your hot water heater and drain the sediment from your tank. This can be performed on a semi-annual or annual basis. For water heaters in the Plano and Richardson area, a once a year draining of your system is sufficient to keep the sediment removed from your heater.
To find a detailed description of how to drain and flush your hot water heater, check out our Richardson and Plano Water Heater Maintenance Drainage Tip to flush your system.
Once you have removed the sediment, you will notice better performance and no more gurgling or popping noises. Keep in mind that the average life span of a standard water heater in North Texas is 10 years. I recommend a proactive approach to replacing your water heater, as you don't want to have your heater break on a night, weekend or holiday.
Should you have any questions or prefer to have an experienced License Professional Plumber perform this maintenance, contact us for your hot water heater maintenance needs. We perform these services regularly for our customers in Plano, Richardson, Wylie, Garland, Frisco, Allen and North Dallas.
Kenny Bunch
M18248