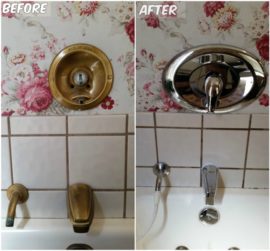 A Solid Way to Add Value to Your Home
Homeowners, in Plano, Texas, who are putting their property on the market, are looking for ways to make their home more appealing to the buyers and investors. Most people cannot afford to completely remodel a kitchen or bathroom. Is there a way that you can add value to your home without spending a fortune?
If your kitchen or baths are outdated, consider updating the plumbing fixtures such as faucets, tubs, toilets, sinks, and showers. These are budget-friendly projects that can create a more appealing and "up-to-date" look. In the meantime, you are adding great value to your home.
Here are a few things to consider when updating plumbing fixtures:
Be sure to choose a faucet with the same amount of holes in the deck of the sink as the one that's being removed.
Keep in mind that there are different styles of faucets to choose from. Find the one that you think would work best in your home and see if it will fit into the sink that you currently have (or consider purchasing a new sink as well). Some faucets have one handle that rotates to choose water temperature and others have (2) separate handles for both hot and cold water. Others even have sprayers integrated into the faucet itself. What would work best in your home?
Does your toilet function well? Is the style/color aged? Should you replace the entire toilet or just the lid? There are many types of toilets on the market today that give us a variety of options in water conservation and style! So if you decide on replacing your toilet, think about what you would like it to offer if you were buying the home.
It only takes a few upgrades in your home to really make a difference in value and style!
If you're having trouble finding the correct fixtures or would like help installing the ones you've already purchased, feel free to give Kenny Bunch Plumbing a call!
972-429-5213 We would be happy to help!